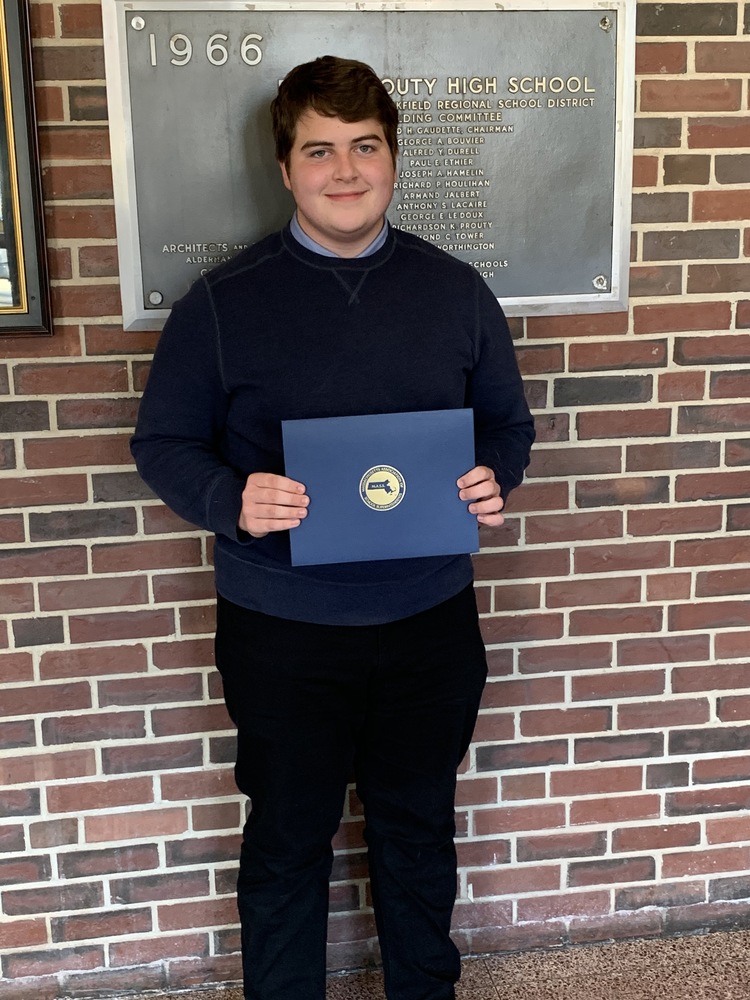 Superintendent recognizes Brendan Halloran as top David Prouty HS Senior!
Paul Haughey
Monday, November 09, 2020
Spencer, MA – November 9, 2020 - Having David Prouty High School begin the year remotely motivated Superintendent Paul Haughey to recognize the top senior, Brendan Halloran, with the Massachusetts Association of School Superintendents Academic Excellence Award. The state association celebrates top students in the fall of their senior year instead of the usual spring award ceremony so that the distinguished honor is in time to be included on college applications.
Superintendent Haughey and Principal Elizabeth York invited Brendan to join him recently outside the high school lobby for a brief press event. Mrs. York noted that Brendan, an active member in the Class of 2021 finished junior year ranked first in the class. "He is an AP Scholar, and a candidate for the AP Diploma. As well, he is Captain of the Football team, Class President, member of National Honor Society, and a White Sweater Award winner! More importantly, He is an outstanding young man… and a deserving recipient of the MASS Academic Achievement Award."
Superintendent Haughey added, "Brandon is an example of the type of education that happens here in the Spencer-East Brookfield Regional School District, in general, and David Prouty High School, specifically, as he has taken advantage of every opportunity he could. On behalf of all of us within the Spencer-East Brookfield Regional School District, many congratulations, Brendan! I wish you all the best in all that you do!" #ProutyPride #Progress #Unity #Knolwedge @MASchoolsK12 @MASCSchoolComm @Massupt