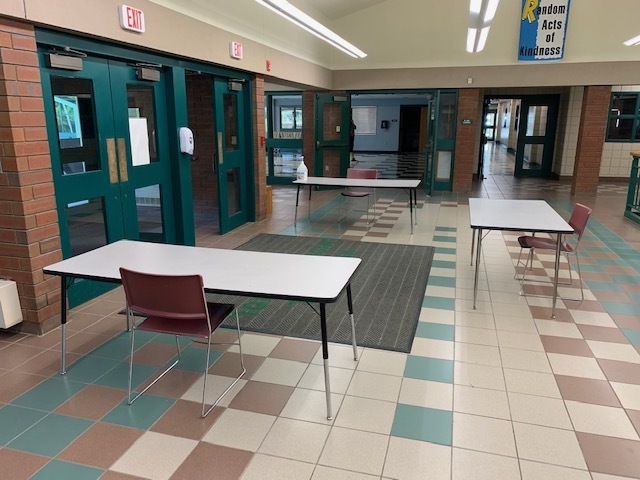 Chromebook Pickup Instructions
KL
Friday, September 04, 2020
To All Knox Trail Families:
Next week we'll be handing out Chromebooks, and all back to school paperwork to include your student's schedules. Please make a concerted effort to arrive on your scheduled date and time. If you are unable to come in for any of these dates please call our main office to schedule an appointment to do so.
Tuesday – Grades 5 & 6 from 9:00 a.m. to 12:00 p.m.
Wednesday – Grade 7 from 9:00 a.m. to 12:00 p.m.
Thursday – Grade 8 from 9:00 a.m. to 12:00 p.m.
Friday – All Grades from 9:00 a.m. to 12:00 p.m.
Chromebook pick up instructions:
When you arrive at the school drive up to the roundabout that takes you closest to the front door. Once you've parked your car enter through the door furthest to the right. Doors will be clearly marked with "Enter" and "Exit". Once you've entered the building you will see three tables. You'll proceed counterclockwise through each table. Each table will be staffed by one of our crack administrative staff. You'll be asked to sign the Chromebook Release Form at the first table. Next, you will proceed to the second table and pick up your Chromebook. If your child chooses to use their own personal device please let us know so we can make note of that. You will receive your Back to School paperwork at the third table. Please return the Back to School paperwork to us NLT October 15, 2020.
Whether inside the building or out, please maintain six-foot social distance and wear a mask. We will provide sanitized pens and hand sanitizer at our work tables. A member of our staff will be standing outside the building to greet you and answer any questions you may have.
Finally, please be patient, we'll do our best to get you in and out of here as quickly as possible.
Enjoy the long weekend!
Ralph