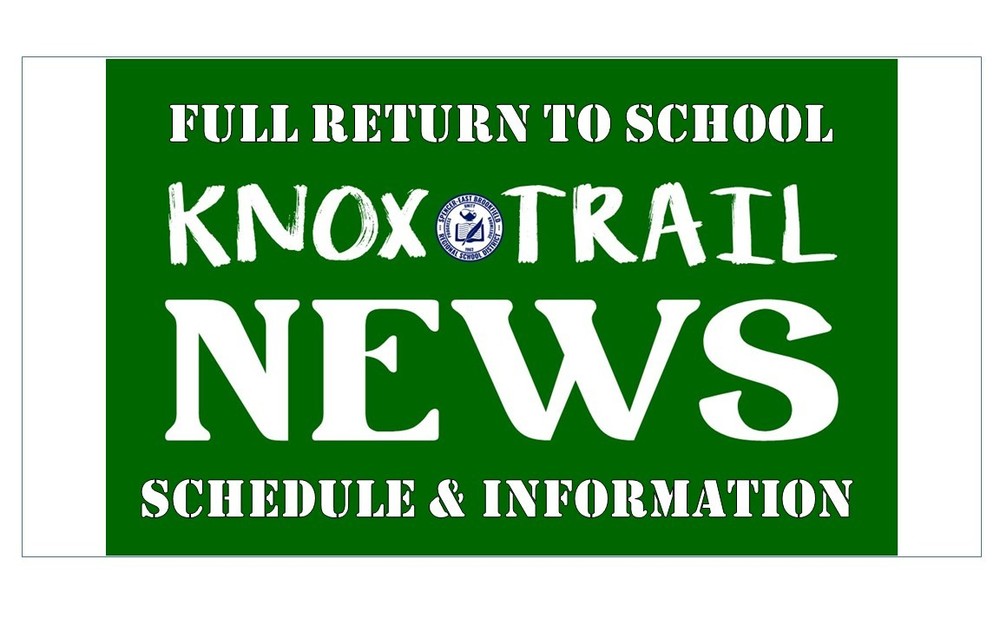 Knox Trail Full Return
KL
Friday, March 26, 2021
Dear Knox Trail Families;

I'm happy to announce that starting April 5, 2021, 5th and 6th-grade students will be returning to in-person full-time school (Monday thru Friday) for the remainder of the school year. Grades 7 and 8 students will return to full-time in-person school beginning April 26, 2021.

By now, our Main Office staff have reached out to all 5th and 6th-grade families to ascertain
which students will be returning to full-time in-person learning and those who wish to remain in
remote learning. My staff is currently contacting 7th and 8th-grade families to determine the
same information.

Here are some noteworthy changes from our current schedule versus our new "Full Return"
schedule. Students will still arrive at school at 7:30 a.m. The student's dismissal will now be 1:15
p.m. for all students. This change became necessary to accommodate the state's new "Time on
Learning" requirement for an in-person school return. We tried to make the new schedule similar to the Hybrid Schedule to avoid more wholesale changes, but we did have to tweak it to some degree (please see the attached Full Return Schedule). Remote learners will need to pay careful attention to the new schedule as class start and end times change. Consequently, your Zoom times will change along with the new class times.

Even though 7th and 8th-grade students will remain in a Hybrid format (A and B cohorts) until
April 26, they will follow the longer-day schedule to include a 1:15 p.m. dismissal. The later
release is necessary due to scheduled bus drop-off and pick up times throughout the district.
State guidance has consistently noted that three feet in classrooms are a safe standard for
physical distancing when masks are worn, and other mitigation strategies are in place, based on guidelines from the World Health Organization and the American Academy of Pediatrics. As
such, we will now move student desks from six feet apart to a minimum of three feet. However,
we will space students further than three feet when feasible. Evidence demonstrates that the
additional risk reduction associated with six feet as opposed to three feet is low – when masks
are worn, and other mitigation strategies are in place.

Another change from our current schedule includes allowing students to eat lunch in school
before dismissal. When students eat lunch, they will be separated by six feet. Before student
dismissal, those who request breakfast may take a "Grab and Go" breakfast that they can take for the following morning.

Rest assured that we will continue to follow safety guidelines, including hand-washing,
sanitizing, mask-wearing, and social distancing.

As always, if you have any questions give us a call at (508) 885-8550. Additionally, Gina and I
will conduct a "Back to In-Person Learning" informational Zoom next Thursday, April 1 at 6:30
p.m. I'll send the Zoom link out next week. We look forward to having our students return and
thank both our entire staff and all our families for your support, hard work and understanding
throughout this entire year!

Sincerely,
Ralph
Full Return Schedule: https://5il.co/qzbm