Good Afternoon,
I hope this Superintendent Update for March 2022 finds you and yours well. There is a very old saying that March roars… "in like a lion and goes out like a lamb! " March is time of year that is traditionally known as our time to shine as a district and make great gains in teaching and learning with purpose! From the classroom to our extracurricular offerings, our staff and students really put their noses to the grindstone and shine – demonstrating exceptional panther pride!
Enrollment: Our enrollment as a regional school district has steadied. As of this morning, we have 1408 students enrolled within our district. David Prouty High School has 328 students enrolled; Knox Trail Middle School has 401 students; Wire Village School has 423 students; and East Brookfield Elementary School has 232 students including 93 students enrolled for the "Cubs Corner" Preschool!
Personnel: We continue to post for paraprofessionals as well as tutors to join our district. If you are interested in becoming a part of our family, please apply at: https://www.schoolspring.com
Covid-19 Update: As of this morning, we have had a total of 489 confirmed cases of Covid-19 within our schools. We have had 427 students and 62 staff members test positive for Covid-19, to date. Please remain vigilant and adhere to the safety protocols for everyone's benefit so we may keep our school house doors open. Please continue to work together with us - to maintain our health and safety protocols throughout the school year with frequent hand washing, disinfecting, test and stay as well as masking.
Masking Is now optional! As you are already aware, the Governor of Massachusetts, and the Department of Elementary and Secondary Education has lifted the mask mandate for all schools in Massachusetts. The mask mandate has expired as of February 28th, 2022. As a result, as of Monday, February 28th, masks are now optional within our schools, on all buses and vans for staff/students who enter our schools. In brief, masks are no longer required, but are optional for staff and students. Please maintain a high level of respect and responsibility over an individual's decision on whether or not they wear a mask within our schools. As noted in earlier correspondence through the school year, masks are an important tool for some when it comes to their own safety, health and wellness.
In anticipation of the reopening of our school house doors from February recess, District Administration and members of our Health Services Department met last week to review district and DESE/CDC guidelines and protocols for COVID-19. We would like to take this time to offer a few reminders.
"At-Home" Antigen Testing Program for Enrolled Staff and Students: Last month, the Massachusetts Department of Elementary and Secondary Education (DESE) in partnership with the Department of Public Health (DPH) approved our application to participate in the at-home antigen testing program as well as the diagnostic and routine pool trusting programs. As a result, if you are interested in this program, here are the steps you will need to complete as part of the "At-Home Antigen Test Program" to enroll…
Please click this link to access the informational letter regarding implementation of this important program as it is yet another tool in our effort to combat the Covid-19 pandemic. Our goal is to deploy these at-home tests across the district over the next couple of weeks.
Phase 1 will distribute testing kits to district staff the week of January 24th, 2022.
Phase 2 will begin distribution of testing kits to students the week of January 31st, 2022. Kits will be distributed bi-weekly and will contain two (2) tests, which is a two-week supply. Kits are expected to ship out from distribution on Monday, January 31st, 2022, and we anticipate that they will arrive within a couple of days to the district. Details regarding the distribution of kits to families will follow.
Once kits have been distributed to individuals that have opted-in to this program, each student will need to test each week on Sunday, using the iHealth antigen tests provided. Positive results should be reported using the link for the Positive Test Result Notification Form on the attached letter AND by contacting your child's school nurse.
Once you have read the attached letter, please click the Opt-In link if you wish to participate in this program and receive take home tests. We urge you to complete this form . If you are unable to complete the online form, we will accept a signed paper copy (included in the attached letter below). Paper forms can be turned in to your child's school office. *Please note that failure to opt-in by this date will delay your access to testing supplies.
To learn more about the Massachusetts Department of Elementary and Secondary Education Updated Covid-19 testing program, click this link.
Family Responsibilities for Health and Safety Reminder
As mentioned above, parents / families play a critical role in supporting the culture of health and safety in our schools. As an important reminder, please keep your child home if they have been identified as a close contact with someone diagnosed with Covid-19. If you or someone in your household has tested positive for Covid-19, please notify your child's school nurse or principal, who can help guide you with this process.
Parents should perform daily Covid-19 symptom checks before leaving home. Students should stay home if they are having any one symptom of Covid-19, as indicated below. The following symptoms were taken from the Department of Elementary and Secondary Education (DESE) website.
Fever (100.0 Degrees Fahrenheit or above)
Cough (not due to other known cause)
Lower respiratory symptoms (difficulty breathing, shortness of breath)
Nausea/vomiting/diarrhea
New loss of taste or smell
Sore throat
Headache when in combination with other symptoms
Fatigue/weakness, when in combination with other symptoms
Muscle aches or body aches
Nasal congestion or runny nose (not due to other known causes, such as allergies) when combined with other symptoms/ If your child has chronic allergies, please request a note from your child's physician indicating such.
*Please notify your child's school principal or school nurse if you have any difficulties following any of these guidelines.
Inclement Weather Notifications: As noted in our 2021-2022 school calendar, we will have traditional snow days this year. Safety considerations, uniform access to electricity/internet during the school day, and COVID fatigue, make snow days an important part of successfully navigating the school year. Calling snow days in New England is a difficult task. As the Superintendent of Schools, I have a unique opportunity to evaluate conditions in real time, as well as consult with the National Weather Service, Department of Public Works, local Emergency Management officials, and neighboring towns. My decision regarding delaying, closing, or releasing schools early always has been and always will be based upon "safety first" for everyone within our learning community. If you have not already done so please put a plan in place for the safe care and/or receipt of your child in the event that a weather-related delay, closing, or release is necessary.
Notification Process: Our district has now transitioned over to our new App and website services as our primary means for delivering the most up-to-date information to your cell phones with our notification feature. To get the App, you can go to the Apple Store or Google Play Store and search for "SEBRSD" then download the App to your phone.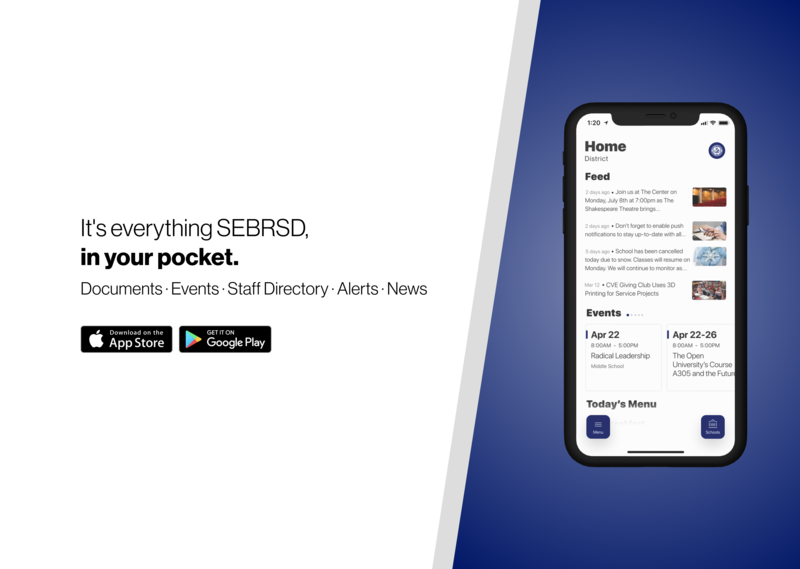 As well, as a backup communication service, notifications will be made through our OneCall Notification System. I will do my best to let you know the night prior, but not later than 5:30 a.m. on the day in question. Further, notifications will be placed on our website, Facebook page, and Twitter Account for the district well as Channel 4 (WBZ), Channel 5 (WCVB), Channel 7 (WHDH), and Channel 25 (FOX).
David Prouty High School Facilities Update: Recently, David Prouty High School's "C" Building roof experienced stress and fractures of the roof seems due to winter weather wear and tear, ice and snow. The result was water running through our ceilings in the locker rooms, hallways, and in the McDonough Gymnasium, as well. Thanks to our community working together and remaining engaged, supportive and resourceful, we were fortunate enough to procure a roofing company who completed the repair work on Monday, February 28th, 2022.
As we concluded February recess, David Prouty High School's "B" Building experienced freezing pipes on the first floor and required repairs. As of this moment, I am sorry to report that after securing a vendor expeditiously; were unable to repair the damaged areas of "B" building and are still unable to reopen our school house doors on Wednesday, March 2nd, 2022. As of this moment, David Prouty high School will begin remote learning beginning tomorrow, March 3rd, 2022 for all students of the high school until the repairs are completed and we can safely reopen the high school. Make up days are yet to be determined.
MSBA Update: Throughout January and February our School Building Committee has had the honor and privilege to present before both the Board of Selectmen and Finance Committees of both Spencer and East Brookfield, MA. More presentations are in the planning stages. However, to stay informed, our David Prouty High School Building Committee meetings take place on the third Thursday of each month. These meetings include a great deal of information regarding our proposed "Addition/Renovation" of David Prouty High School. Our next meeting of the David Prouty High School Building Committee is planned to take place on Thursday, March 3rd, 2022 at 6:00pm at the Wire Village School. All are welcome to these important in-person meetings.
Prouty Celebrates Success on the Track and on the Basketball Court this winter! Our Co-Ed Track team had an outstanding season with many of their athletes making districts and competing against some of the top speedsters in the Commonwealth. As well, David Prouty Panther Hoop teams enter the MIAA tournament on a roll! Both our Boys and Girls Basketball teams are in the MIAA Basketball tournament! The Girls begin their run in the tournament on Wednesday evening at 6pm; and the Boys begin their tournament play on Friday. Both teams are seeded well at #14 (Girls) and #10 (Boys), respectively. Please come out this week and celebrate our teams in their tournament play! Locations of each game will be communicated later today by our high school administration and athletic department.
Upcoming Events in March 2022!
Finally, we have many exciting activities taking place throughout our learning community in the month of December.
Event: School Building Committee Meeting (Thurs, March 3, 6:00pm)
Event: SEPAC Meeting – Basic Rights: Understanding the IEP via Zoom. (Mon, March 3, 6:30 PM)
Event School Committee Meeting (Tue, March 8 6:00 PM)
Event: Half Day of School (March 11).
In closing, we know that the Covid-19 pandemic continues to place added pressure on students, parents/families, our staff and our learning community as a whole. As the lifting of the mask mandate arrives and our schools reopen this March, it is my sincere hope and expectation that we stay together and find opportunities to celebrate spring and enjoy the many opportunities to teach and learn within our school district and within our communities. We are where we are as a district and learning community thanks to the continued support and partnership put forward by our towns, our parents/families, staff and students… We are genuinely appreciative of your patience, support, and partnership with the Spencer-East Brookfield Regional School District. Take care and stay well! #Innovate #Inspire #Achieve
Sincerely Yours,
Paul S. Haughey, Ed.D.
Superintendent of Schools
Spencer-East Brookfield Regional School District