SPENCER, MA - January 30, 2023 - Recently, Superintendent Paul Haughey met to recognize the top senior, Cody Chen, with the Massachusetts Association of School Superintendents Academic Excellence Award. The state association celebrates top students during the early portion of their senior year instead of the usual spring award ceremony so that the distinguished honor is in time to be included on college applications.
Superintendent Haughey and Principal Nathaniel Malone invited Cody to join him recently in the Central Office for a brief press event. Mr. Malone noted that, "Cody is a high achieving, well-rounded student. He's taken advantage of all that David Prouty has to offer, not only in Honors & AP level courses but also as a member of our school's Chapter 74 Career Technical Education (CTE) program in Environmental Science."
Assistant Principal Sara Kinnas added, "Cody has excelled due to his hard work and self-discipline, and received the distinction as a Rensselaer Medalist his junior year. He is self-motivated and self-disciplined which largely drives his success. Cody is also involved in our school community as a member of the Cross-Country team where he was awarded MVP recognition during his Junior year. He was involved in our student government as a freshman, serving as Class President, and during his senior year he joined the Newspaper Club and volunteered to be the voice of our morning announcements.
"Cody has also found other activities to engage him during non-school days. For example, during the summer break after his Junior year, he served as a volunteer teacher and outdoor supervisor for the Ivy After School Program where he taught English and communication skills to elementary-level Chinese students and helped oversee outdoor recreational activities," added Principal Malone.
"Cody is also self-taught in hobbies such as chess, badminton, and video editing. He has a vast array of interests and is looking forward to exploring new opportunities that a large college or university can offer him," stated his Guidance Counselor Jen Arguello.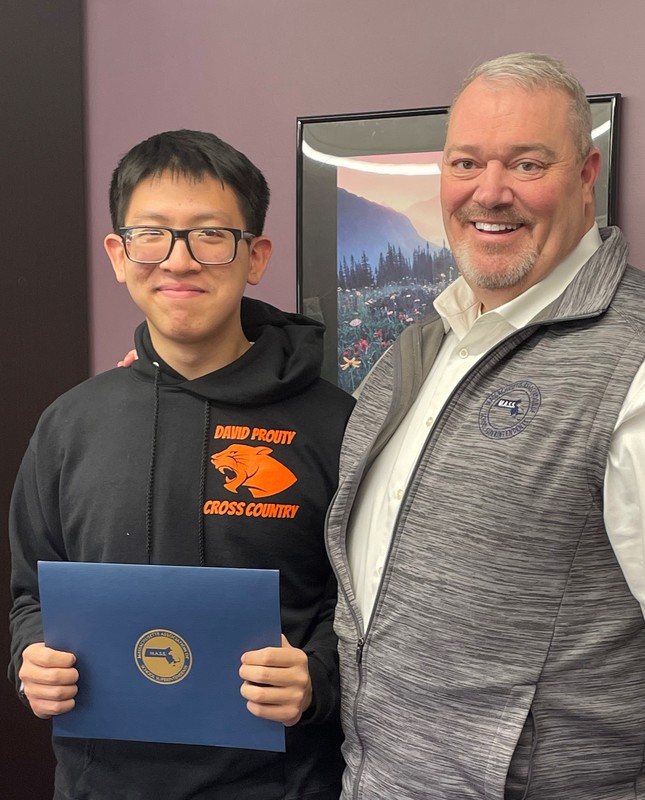 Superintendent Haughey added, "Cody is a deserving young man who has earned the 2022-2023 MASS Academic Achievement Award. Cody is an excellent example of the type of education that happens here in the Spencer-East Brookfield Regional School District, in general, and David Prouty High School, specifically, as he has taken advantage of every opportunity put before him. On behalf of all of us within the Spencer-East Brookfield Regional School District, many congratulations, Cody! I wish you all the best in all that you do!" #ProutyPride #Innovate #Inspire #Achieve @MASchoolsK12 @MASCSchoolComm @Massupt