Good Afternoon,
I hope this message finds you and your family well. Thank you for your continued patience as we have continued reopened our school house doors throughout the fall season. To date, we have successfully reopened grades PreK-12 to a hybrid model of learning (A Week / B Week) and have returned all off our high needs students to Cohort C (Grades K-12) as well as identified our "Remote Only" students and assigned them to Cohort D.
Winter Sports Update
Given the current pandemic, and the subsequent surge in cases of Covid-19 throughout Massachusetts, Southern Worcester County League member districts and officials are currently assessing the viability of holding winter sports this season. At the present time, a preliminary decision to defer the start of Winter Sports until after January 4th, 2020 has been made. As more becomes known in the next two weeks regarding winter sports and league competition, I will keep you apprised.
Covid-19 Update
As you know the Covid-19 pandemic has placed many unexpected burdens upon our local, state, national and international communities. As of this morning, Wednesday, December 2, 2020, the Town of Spencer, Ma has over 198 confirmed cases since March with 47 active cases. East Brookfield, MA has 18 confirmed cases with 3 active cases. Our district has 3 confirmed cases amongst our students since we reopened our school house doors, none of them in our schools - all remote learning. We have had 2 staff members who have had confirmed cases of Covid-19 in the past three weeks. To date, we have not had 1 confirmed case enter our school house doors. This fact is a credit to you - our parents, families, guardians as you have kept your son or daughter home anytime they have demonstrated symptoms.
Additionally, I credit our leadership team, faculty and staff for their due diligence. Neighboring communities in the Southern Worcester County region have not been so fortunate and have had to switch from in-person to remote learning models or hybrid to remote learning models due to the current surge in confirmed cases entering their schools. Our entire learning community has not had this experience, and I am so grateful to each and every person within our two towns, and members of our regional school district for their commitment to the adherence of CDC, Department of Public Health, and Board of Health safety, health and wellness guidance. Our collective efforts, while taxing and tedious, have truly been paying off.
Please continue to stay the course with us and remain vigilant in maintaining a safe and healthy learning environment for all staff and students. At the request of our school nurses and members of the Department of Student Services I have been asked to once again share the following information regarding how each of us can support one another in keeping all of our school house doors open.

Family Responsibilities for Health and Safety Reminder
As mentioned above, families play a critical role in supporting the culture of health and safety in our schools. As an important reminder, please keep your child home if they have been identified as a close contact with someone diagnosed with Covid-19. If you or someone in your household has tested positive for Covid-19, please notify your child's school nurse or principal, who can help guide you with this process.
Parents should perform daily Covid-19 symptom checks before leaving home. Students should stay home if they are having any one symptom of Covid-19, as indicated below. The following symptoms were taken from the Department of Elementary and Secondary Education (DESE) website.
Fever (100.0 Degrees Fahrenheit or above)
Cough (not due to other known cause)
Lower respiratory symptoms (difficulty breathing, shortness of breath)
Nausea/vomiting/diarrhea
New loss of taste or smell
Sore throat
Headache when in combination with other symptoms
Fatigue/weakness, when in combination with other symptoms
Muscle aches or body aches
Nasal congestion or runny nose (not due to other known causes, such as allergies) when combined with other symptoms/ If your child has chronic allergies, please request a note from your child's physician indicating such.
Attendance: If your child presents at home or in school with any symptoms listed above, please contact your child's physician for COVID testing. If the physician determines that there is an alternative diagnosis, you MUST provide the school nurse with a written doctor's note stating the diagnosis and signed by the physician, prior to returning to school.
*Please notify your child's school principal or school nurse if you have any difficulties following any of these guidelines.
Flu Vaccine Requirement for MA Students Approaching!
The flu vaccine is now required for all Massachusetts school students enrolled in child care, pre-school, K-12, and post-secondary institutions. All students must receive the vaccine by December 31, 2020. Proof of vaccination, a medical exemption and/or religious exemption must be provided and on file to the main office of your son or daughter's school by the end of December 2020. For more information, please call your healthcare provider or visit: https://mass.gov/flu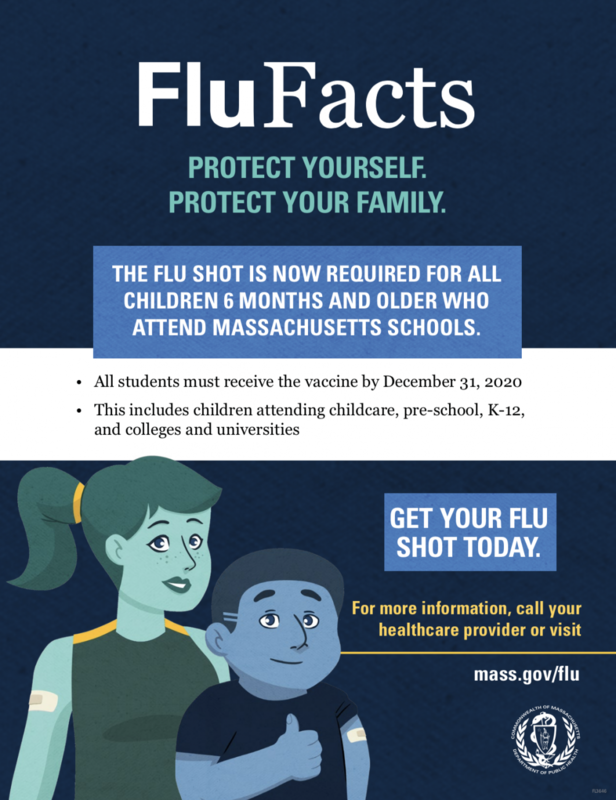 Inclement Weather Notifications
As noted in our 2020-2021 school calendar, we will not have traditional snow days this year. Safety considerations, uniform access to electricity/internet during the school day, and COVID fatigue, make snow days an important part of successfully navigating the school year. Calling snow days in New England is a difficult task. , I have a unique opportunity to evaluate conditions in real time, as well as consult with the National Weather Service, Department of Public Works, local Emergency Management officials, and neighboring towns. My decision regarding delaying, closing, or releasing schools early always has been and always will be based upon "safety first" for everyone within our learning community. If you have not already done so please make a plan in place for the safe care and/or receipt of your child in the event that a weather related delay, closing, or release is necessary.
Remote Learning Day Information
Equally as difficult to calling a snow day in New England, is making the determination of when to move to a Remote Day in one or more schools during the COVI D experience. A Remote Day may be called for one school, multiple schools, or the entire district.
Remote Learning Days will be used if we do not have adequate faculty/staff coverage to ensure student safety. In addition, if there is concern regarding COVID transmission in school, or some other event jeopardizes students attending school safely, we will also enact a Remote Learning Day.
Similar to inclement weather situations, please have a plan in place for the oversight of your child. A Remote Day situation could range from one day to multiple days depending on cause and severity.
Notification Process
Our district has now transition over to our new App and website services as our primary means for delivering the most up-to-date information to your cell phones with our notification feature. To get the App, you can go to the Apple Store or Google Play Store and search for "SEBRSD" then download the App to your phone.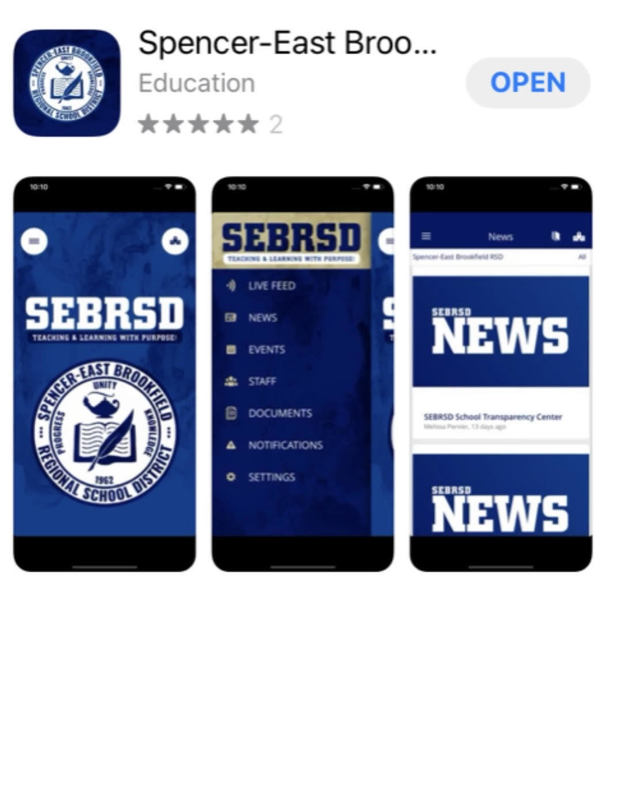 As well, as a backup communication service, notifications will be made through our OneCall Notification System. I will do my best to let you know the night prior, but not later than 5:30 a.m. on the day in question. Further, notifications will be placed on our website, Facebook page, and Twitter Account for the district well as Channel 4 (WBZ), Channel 5 (WCVB), Channel 7 (WHDH), and Channel 25 (FOX).
Upcoming Events in December!
Finally, this monthly we have many exciting activities taking place throughout our learning community.
Event: DPHS Marching Band & AA Transportation's Stuff the Bus! (Sat, Dec. 5, 10:00 AM- 2:00 PM at David Prouty HS!)
Event: Spencer Police Association Children's Grade K - 3 District Christmas Party, Drive-Thru Style! (Sat, Dec 5, at 10:00 AM at Wire Village School)
Event: School Committee Meeting (Tue, Dec 8, 6:00 PM)
Event: Virtual Open House Parents Night (Thurs, December 10, 7:00 PM)
Event: Professional Development (Mon, Dec 21 - Tue, Dec 22)
Event: School Closed - Holiday Break (Wed, Dec 23 – Fri, Jan 1)
As always, thank you for your partnership, support, and collaboration as we navigate this school year – together! #Progress #Unity #Knowledge
Sincerely Yours,
Paul S. Haughey, Ed.D.
Superintendent of Schools
Spencer-East Brookfield Regional School District